Website Features & Process
Elevate Your Online Presence
Unveil the power of professional online marketing with a complimentary strategy session. We're here to amplify your passion and expertise.
Website Features
Like a "turnkey home," our websites are "move-in" ready. Hosting, software, custom coding, page structure, information flow, and design are already in place. All you need to do is add your text, images, dogs, and litters.
Click on the links below to jump to the corresponding section.
Content Management System
Built using WordPress, the world's most popular and widely used content management system.
Theme and Plugins
Our websites are built using Divi, one of the most popular themes in the world. Every site comes with all the plugins you'll need—pre-installed with settings already set up and optimized for your website's specific needs. The commercial theme and plugins are a $950 annual value.
To keep your website secure and running smoothly, we take care of all WordPress, theme, and plugin updates weekly—a $600 annual value.
Hosting
Our websites are hosted on a Managed WordPress server to give you added security, reliability, and speed. We also include a CDN powered by Fastly. CDN stands for Content Delivery Network, and they work to speed up page loads for your site's visitors. Together, the hosting and CDN are a $420 annual value.
Website Optimization for Faster Page Loading Times
Not only do your website's page loading times benefit from Managed WordPress hosting, but it also includes WP Rocket—the #1 WordPress caching plugin. Your images will be optimized, safely converted to a Next-Gen format (WebP), and delivered directly to your visitors from blazing-fast multi-location global servers.
Search Engine Optimization (SEO)
Your website is built with SEO in mind. From site outline to URL structure, information flow, heading hierarchy, internal linking, schema, meta titles and descriptions, FAQ keyword research, site speed, security, and technical SEO—your website is ready to meet the world!
Google Analytics and Search Console
We'll connect your site to your Google Analytics and Search Console accounts so you can track traffic and see insight reports right in your website dashboard.
Website Privacy and Consent
Your website includes privacy and consent management so you can comply with privacy laws and regulations. This means you'll be able to provide transparent information to your website visitors about what data you collect and how it's used and obtain explicit consent before collecting any personal information. By prioritizing privacy and consent management, you can build trust with your website visitors and establish a positive reputation for your brand.
Prebuilt Pages Ready to Go
We've designed page layouts for all the photos and information you'll want to display. There are over 30 prebuilt pages with attractive layouts, optimized information flow, and easy editing.
Prebuilt Forms Ready to Go
Your website comes with seven prebuilt forms. Two notification emails will be triggered when someone submits a form: one to you and one to the person who submitted the form. Each form can be modified to fit your needs. To ensure your website sends emails reliably and securely, we utilize an email sending service and add the appropriate DNS records to your domain registrar.
Contact
Reserve a Pup
Adoption Application
Breeding Dogs for Sale
Stud Services
Review Funnel
User Review
Marketing
Grow your followers with newsletter signups. We can integrate with your favorite email services—AWeber, MailChimp, Constant Contact, Sendy, Infusionsoft, GetResponse, Campaign Monitor, and more.
Testimonials
Not only do you have a prebuilt testimonial page, but your website also comes with a Review Funnel and page for your customers to submit a review to your website.
A Review Funnel is a page that asks for reviews. This page includes two options to indicate either a good or bad experience. Depending on which they choose, they're presented with one of the following options:
If they had a good experience, they'll see an option to submit their review to the platform of their choice—including your website.
If not good, they're presented with a form where they can communicate their concerns to you.
This gives your customer the ability to publish their review on the platform(s) they're most comfortable with. If they did not have a good experience, it gives you the ability to address any concerns without bad reviews being published online.
FAQs
More than 50 keyword FAQs are spread over four pages with questions that people are asking in online searches. Each question and answer is optimized with schema markup—special code read by search engines like Google, which can be used to generate Rich Snippets.
Provide an answer for the ones you want to keep, add questions you feel are relevant to your target market, and delete any you think don't bring value.
Pages with FAQs:
About [your dog breed]
Enrichment and Socialization
Price and Policies
Prepare for Puppy
Website Dashboard
Your website backend dashboard has been simplified and optimized to make it easier for you to manage your website. We also have a Knowledge Base that walks you through each section within the dashboard.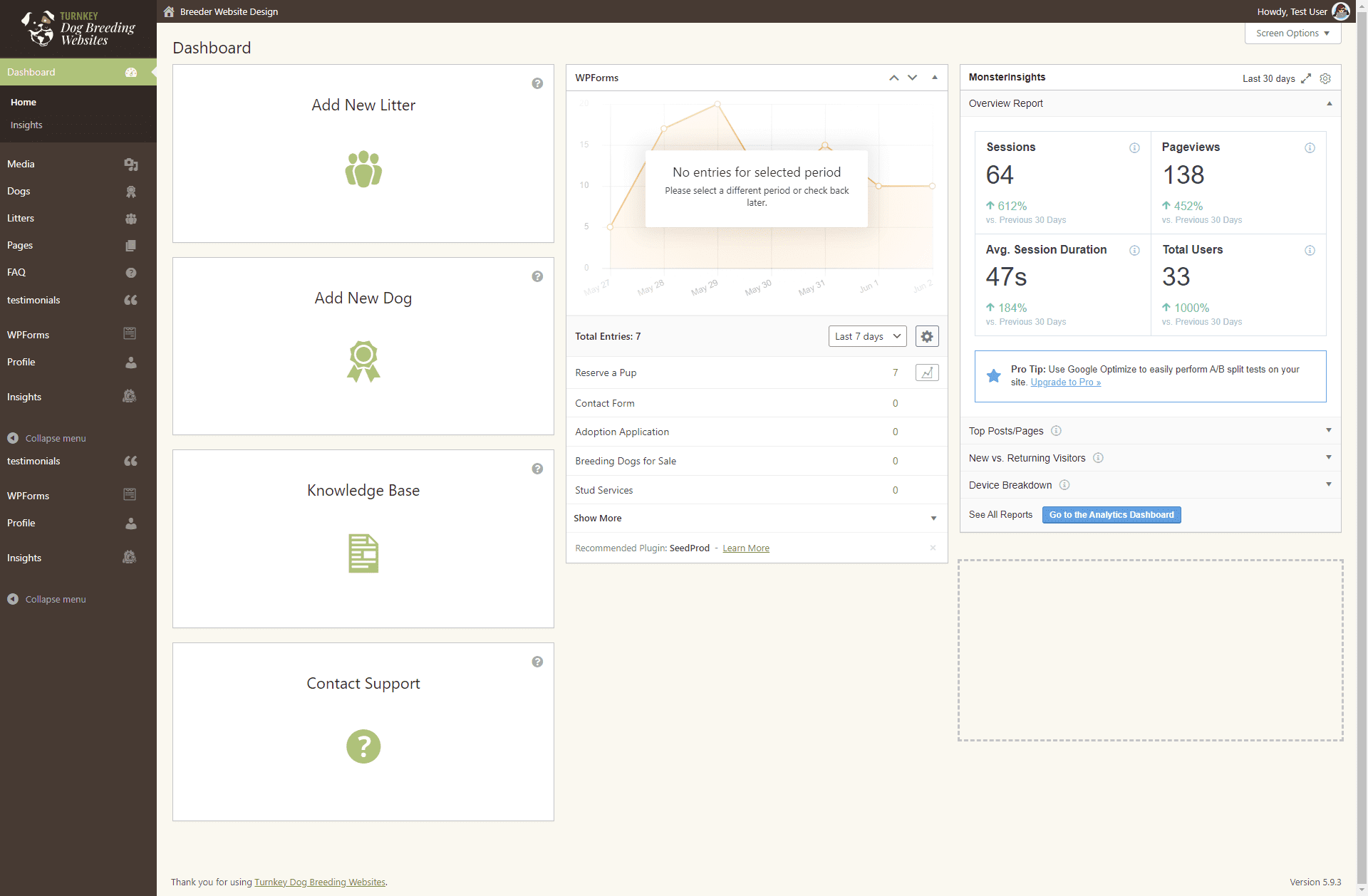 Support
You'll recieve dedicated support to help you get up and running—and continue to run smoothly. We also have a
Knowledge Base
set up to help you understand how your website works. If you can't find the answer you're looking for, you can submit a
support request
to our support team.
1) First Contact
Contact us for a free consultation. We'll discuss your situation and needs to find out if we're a good fit for you.
2) Initial Proposal
We'll create and send an initial proposal based on our discussion. Per your feedback, we'll finesse and work out the details of what services you'd like to include.
3) Proposal & Contract
We'll send the finalized proposal and contract via HelloSign for all parties to sign.
4) What We'll Need from You
You'll deliver any brand files, color palette, and style guide if you have one. We'll also need access to your domain registrar.
5) We Get to Work
We set up your website and customize the look and feel to be in line with your brand, as well as take care of technical details.
6) Review
You review the site and give us feedback. We'll discuss and make any necessary changes.
7) You Get to Work
The site is ready for you to start adding your text, photos, dogs, and litters. We'll work with you and help you through this process.
8) Testing and Launch
When you're finished adding content, we'll do some final testing and take the site live. If you run into any issues or have questions, we're here for you!
Turnkey Dog Breeding Websites
We Create Websites that Match the Quality of Your Breeding Program
Like a "turnkey home," our websites are "move-in" ready. Page structure and information flow are already in place and ready for you to add your own message and content. We'll change the colors, look, and feel to match your brand—and you'll revise the text, add your dogs, and start adding litters.
Check out our demo—OR—contact us for a free consultation to determine if we're a good match for you and your breeding business.